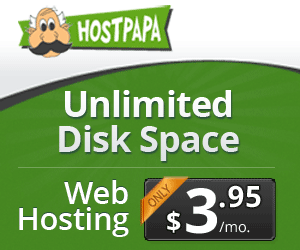 HostPapa best Canadian web hosting reviews . Established over a decade ago in 2006, HostPapa is one of the most respectable names in hosting industry. The service provides all types of hosting to small business owners, bloggers, entrepreneurs, and other enthusiasts. The premium Canadian hosting company has over 500,000 websites hosted on their data centers located in Canada and the US. HostPapa's business model isn't built around green initiative like GreenGeeks web hosting, however, the company offers green hosting options to its Canadian customers. The hosting service provider claims that their data centers are designed to be technologically and environmentally efficient.
Features
User-friendly Control Panel – HostPapa's control panel and dashboard are easy to use and they also provide tutorial videos and knowledge base to ensure non-savvy people can also get the job done
Advanced Security – The hosting service takes digital security very seriously and employs high level intrusion detection and firewalls. Hosting is secured through Let's Encrypt SSL certificate.
Speedy Servers – HostPapa claims to provide fast loading speeds for your websites with purpose built servers.
Unlimited Resources – With unlimited storage and bandwidth for shared web hosting plans, HostPapa provides its clients with the opportunity to scale their operations quickly and easily.
Applications – HostPapa offers more than 400 free apps to every customer that can be used to build to customize the website including ecommerce sites and blogs.
Website Builder – Usually you need to take care of the website design bit yourself, but not with HostPapa. There is no need for hiring a designer or developer as you can get the job done with the website builder.
Award Winning Support – HostPapa claims to provide highest quality customer care to all of its clients through support tickets, live chat, and phone.
Pricing
HostPapa brings you three hosting plans that include Starter, Business, and Business Pro. These plans are designed to serve a range of customers with different and varying hosting needs.
These plans cost $8.99, $13.99, and $21.99 a month respectively, however, if you are willing to commit for a longer period, you can get discounted rates. For example, if you are willing to pay for a 3 year plan, you can get the prices down to $3.95, $3.95, and $12.95 a month.
Starter plan includes two websites, free domain registration, 100 GB of disk space, and unlimited bandwidth while Business plan has unlimited websites and disk space. Business plan also comes with advanced features. On the other hand, the most premium plan the Business Pro has all the bells and whistles including performance and security enhancements.
Performance
There are two jobs a hosting service provides – host and serve. Hosting is the part where the website is stored on the service's computer and serving is the part where the server actually serves the website to the user who has initiated a request. That's why reliability and speed of hosting service are always the most crucial factors and a company that fails to deliver either of the two has a difficult chance in today's hosting industry.
According to Time to First Byte (TTFB) tests performed, HostPapa's servers perform exceptionally well. The website is served at a great speed which is highly competitive with other top hosting services. As far as reliability is concerned, HostPapa easily goes beyond the golden standard of 99.9% uptime. Each hosting service has to face the issue of downtime every once in a while but HostPapa has been brilliant when it comes to maintaining the reliability of their service. Read our best Canadian web hosting reviews to get most important facts on their technology.
Security
Security can't be put aside when searching for a highly reliable hosting service. Keeping your website on a secure hosting server is of utmost significance and its importance can't be understated. HostPapa serves the customers well in that regard. Each HostPapa shared hosting plan comes with server firewall, round the clock monitoring, Panda Cloud antispam protection, and intrusion detection. Moreover, Business Pro customers have additional advanced security features such as SSL certificate, automatic website backups, and domain privacy protection.
If you are running a Business or Starter plan, you can also request these features as add-ons by paying a small price. VPS hosting plans feature brute force detection, security updates, and password protected directories to provide the extra security cushion to the customers. There are some other features such as domain privacy which you can use to conceal your personal information associated with the website hosted on the server. You also get a Sitelock Security Seal to give your website visitors a sense of security.
Customer Support
The quality of customer support can make or break your experience, especially in the hosting service industry. HostPapa get the best Canadian web hosting reviews from their clients. To judge any company's customer support, you have to look at the fact that whether they think of it as a cost or an investment. Companies that treat customer service as a cost usually try to reduce their effort to a bare minimum in order to boost the bottom-line. On the other hand, companies that see customer service as an investment spend on customer satisfaction to ensure they become long term clients. It doesn't need to be said that latter is always better.
HostPapa, with its wide range of customer support channels and investment in customer satisfaction acquisition, makes for a solid customer service experience every time. You can reach out to them through live chat, email, phone, and even social media. They also support multilingual communication which is rare in the hosting industry. Moreover, HostPapa also has a decent knowledge base along with an auto-translation feature for convenience of customers.
Canadian web hosting reviews
Read our detailed Canadian web hosting reviews to select the best web host.You can also extract help through a fine variety of video tutorials.