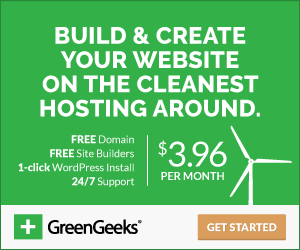 Founded in 2008 with the objective much bigger than just being a hosting service provider, GreenGeeks established dominance in the early going. The service brings especially engineered hosting platforms for shared, reseller, WordPress, and VPS hosting that provide secure, scalable and fast solution. With two data centers located in Toronto and Montreal, GreenGeeks can provide better web services to Canadian customers in terms of latency. Moreover, GreenGeeks is the industry's top eco-friendly hosting service company that claims to put back three times the energy they consume. Currently, GreenGeeks is serving more than 300,000 clients from 150 different countries.
Features | web services
SSD Storage Arrays – The hosting service provides high end Solid State RAID-10 storage Arrays for quick page loading and maximum redundancy to ensure data security in the event of hardware failure or other accidents.
Best Speed – GreenGeeks employs the latest speed technologies such as PowerCacher, MariaDB, HTTP/2, PHP7 and free CDN ensuring customers get the enhanced speed.
Built-in Scalability – GreenGeeks allows customers to conveniently scale computing resources as their hosting requirements grow. Slow and cumbersome VPS upgrades is a thing of the past.
Advanced Security – The hosting provider keeps websites secure with custom security rules and zero-day vulnerability fixes.
Stable Hosting Platform –With the deployment of container technology, account isolation, pro-active monitoring and daily backups, GreenGeeks provides a hosting platform you can put your trust in.
Cooperative 24/7 Support – Brilliant people with the willingness to help and years of experience are available round the clock to assist customers through chat, ticket or phone.
Pricing
Let's talk about pricing, the most important factor. As compared to other hosting web services, GreenGeeks is quite competitive and offers three plans namely Ecosite Starter, Ecosite Pro, and Ecosite Premium.
Each service costs $9.95, $14.95, and $24.95 a month respectively. However, if you are willing to pay upfront for 36 months, the same plans will set you back $3.95, $6.95, and $16.95 respectively.
Key differentiators in these plans include Wildcard SSL and PCI Compliance which are included in the Premium plan by default but the Starter and Pro plans require an add-on. Apart from that, Pro gets 2X while Premium gets 4X the performance.
Performance
The golden standard in the hosting industry is 99.9% uptime and GreenGeeks guarantees that. The service claims that their hosting servers will be up and running 99.9% of the time. If we are to believe the testimony of hundreds of reviewers then that's exactly the case. GreenGeeks is successful in meeting those claims. That being said there is no refund clause in the service agreement for a major downtime not caused by scheduled performance. According to many sources the uptime of the servers is actually more than 99.9% which is pretty much a standard among the top web hosting companies not only in Canada but around the globe.
Moreover, GreenGeeks isn't only a green hosting web services solution, you practically get unlimited resources including storage, bandwidth, domains, email addresses and more. The team understands the intricacies of hosting and is willing to assist if there's a problem. That's why with GreenGeeks you get speed with reliability. All in all, if we talk about hosting performance, GreenGeeks is right up there with top Canadian hosting web services.
Security
Another important aspect of a hosting service that can't be overlooked under any circumstances is that of security. Fortunately, you can host your website on GreenGeeks without any worries as security initiatives taken by the service are top notch and protect all types of data that is hosted on their servers. Each of the GreenGeeks servers is kept under round the clock monitoring along with firewall deployment to ensure all hacking attempts and cyberattacks are countered effectively. This also gives protection against DDoS and brute force attacks.
Apart from that, there is an option to go for a VPN hosting plan which allows you to blacklist dubious IP addresses. There is also a free of cost Anti-Spam tool that protects your email accounts. Security doesn't end here, you can maintain high level of protection with password protected directories, SSL encryption, and timely updating of software installed on your server. In order to create redundancy, GreenGeeks carries out disaster recovery backups once in every 24 hours and the service is available on all types of hosting plans.

Customer Support
High quality and timely customer care support separates great hosting services from the ordinary ones. It's one of the key factors that should be taken into account when considering different hosting options. GreenGeeks is a team made of people who know they are a hosting first company and employ a range of methods to provide assistance to their customers and potential customers who are looking to reach out to them.
Direct assistance can be had through a support team which can be contacted through phone, live chat, and email. It should be noted that phone support is only available during business hours and not round the clock. However, you can still reach customer reps through live chat on GreenGeeks website. Although there's no official forum support, there is an online Help Center with a knowledgebase and frequently asked questions for convenience of the customers.